V-korr Creative Surface
The sweep of possibilities
V-korr is a synthetic material of high technology, combining natural minerals, pure acrylic resin and pigments.
Hygienic and non-toxic, it was originally designed for hospitals and public areas. Very durable, versatile, thermoformable and without visible seams, it offers endless creative possibilities.
Today the V-korr solid surface fits perfectly to any environment, from which it enhances the elegance. Interior architects and designers can then unleash their imagination and inventiveness. V-korr is the ideal partner for your domestic or commercial projects.
Partners' map
Find your nearest dealer.
---
Applications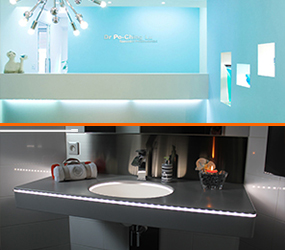 There are many applications: worktop, reception desk, backlit furniture ... V-korr is an ultra-versatile material and easy to transform.
Sinks and bowls
How do you choose a sink or bowl? What are the advantages of V-korr compared to other traditional materials? All your questions will be answered here.
Documentation
More details and practical tips for transforming V-korr, technical specifications: all the documentation you need.
---
They trust V-korr