THE V-KORR SOLID SURFACE IS MODULAR, AESTHETIC AND DESIGN. IT MATCHES SKILFULLY WITH OTHER MATERIALS, SUCH AS WOOD, METAL ... IN ADDITION TO TRADITIONAL WALL CLADDING, DISCOVER THIS CHROMED PILLARS CLADDING IN THE GRAND BORNAND TOURIST OFFICE!
---
Design pillars: alliance of chrome and V-korr
As part of the development of the Tourist Office of Grand Bornand, once more the V-korr Solid Surface has been able to prove that it adapts to all design constraints and space. Being the central elements of decoration of the room, the pillars of this Tourist office had to be at the same time resistant and aesthetic: V-korr thus saw its Solid Surface impregnated with chromium.
To enhance the uniqueness of this achievement, the rest of the decorative elements were made of solid wood, as a reminder to the many wooden chalets in the region. Wood is a material often present in the V-korr creations, whether in the form of a reception desk (Axens offices in Confluence), kitchen (Showroom in Paris) or wall cladding  (Dalkia Showroom in Paris La Defense).
The result is very original: the different forms given to the metal blend harmoniously with Solid Surface. The machined motifs recall those present on the surrounding walls, ensuring the aesthetic unity of the room.
---
Display cabinets with Solid Surface cladding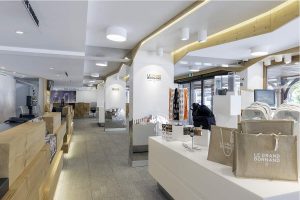 In addition, the Tourist Office wanted to integrate furniture to present the various items available for sale. With its experience in producing displays in various forms (CIC Colmar or Sonia Rykiel Boutique), V-korr has met the needs expressed. The front of the drawers was thus dressed, also, in V-korr 050 - Lumino, in 12mm thickness.
---
 Realization of the pillars in chromed Solid Surface
---
Plus d'infos :
Project : Habillages de piliers en Solid Surface + chrome
Contexte : Aménagement de l'Office de Tourisme du Grand Bornand
Location : Grand Bornand
Date : Février 2017
Conception : Atelier Charles MELIERES
Realization : Avrillon Ébénisterie
V-korr Colors : 050 - Lumino
Credits photos : Cédrine Tresca
Mots clés :